Massages
Massages are one of the oldest therapies known to mankind. The treatment varies greatly from one culture to another. 
Thus I have learned three different massage techniques.
Ayurvedic massage
Ayurvedic massage is a very gentle massage.
The whole body is treated with rhythmic strokes, beginning at the left arm and extending over the legs. Particular attention is paid to the joints.
A very experienced elderly colleague taught me a very special technique. It involves a cycle of 5 treatments. 5 different signs are massaged on the body, which have to do with protection, love, bonding, trust and breathing.
This wonderful massage during pregnancy promotes the bond between mother and child and strengthens confidence.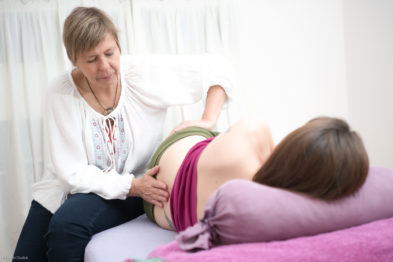 Arvigo® Therapy pre-natal massage
In Belize, Central America, I was taught another technique: The Arvigo Techniques of Maya Abdominal Therapy®  (ATMAT).
more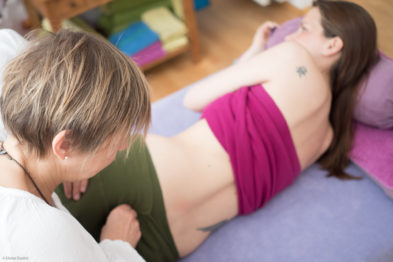 Pre-natal massage
The woman is seated on a footstool with her head down.
In this position one can wonderfully treat the back and smoothen the pelvis. The woman then lies down on the couch.
The belly is massaged very gently to prepare it optimally for the work at birth.
This massage is recommended once a week from the 35th week of pregnancy.